Batangas Beach Resorts
Batangas Beach Resorts are full of natural landscape that vacationers will love and have a good time. The towns of San Juan, Mabini, Calatagan, Lian, Lobo and Nasugbu are where the famous beach resorts are located.
Most of the resorts in the area offer air-conditioned rooms, hot and cold shower. And nearly all have mini bar with refrigerator. Choices of Filipino, Oriental, Italian and American foods are offered in their dining facilities.
During the hot summer months of March to June, resort accommodations are usually fully booked. Well, I recommend that you make a reservation before driving to any of the resorts.
San Juan Batangas Beach Resorts
The long shorelines of Laiya and Hugom bear white sand, warm blue water and fresh breeze. Swimming, snorkeling, jet skiing, kayaking and boating are activities that awaits you. A peaceful place, wherein lapping waves, swirling leaves, and chirping birds are all you could hear.
The area in the boundary of Hugom and Laiya is a superb spot for snorkeling. Just a few meters from the shore, you can watch a fish sanctuary, coral reefs and other marine life at shallow waters, which is only a meter deep or even less.
Moreover if you love hiking, or mountain biking, Mt. Daguldol mountain trail awaits you! Don't forget to trek the hidden coves and falls like Mainit na Pulang Bato and Naambon falls.
These make the San Juan Batangas Beach Resorts a vacation heaven for folks who love an outdoor adventure.

Mabini Famed Dive Sites in Batangas
Dive sites and resorts are scattered all over the town of Mabini, and Anilao was the first barrio in Mabini to be recognized. Although other barrios like San Teodoro, Balangit and Solo also keep resorts and dive sites for diving guests.
Furthermore, most of the resorts in Mabini are found in the hillside, which gives the travelers a good glimpse of the beach.
The beach of Mabini is perfect for viewing marine life and macro photography. Colorful fishes and corals are ample. Night diving is advised to expose seawater creatures like snake eels and sea hares. But divers are warned; the current can be strong and make sure to check the tide tables and chart before taking a dive.
Most of the resorts can furnish the needs of the divers. Boats can be hired for island hopping and to transport divers to diving spots. Most of the resorts offer diving lessons with qualified dive instructors especially for beginners.
This is one reason why Mabini has one of the tightest accommodations Batangas Beach Resorts during weekends.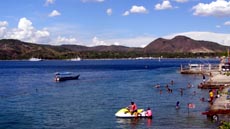 Lian Batangas Famous Matabungkay Vacation
Matabungkay in Lian Batangas, known for its white sand beach is the most popular beach among local and foreign tourists. It is one of the earliest beaches in the Philippines adapted into a resort. The strip of shoreline is full of resorts and hotels, and has created an enormous traffic for tourism.
One attribute famous in Matabungkay is the bamboo rafts floating all over the bay. You can rent one of these bamboo rafts, have your lunch, swim in the clear water and relax till sunset. Talking about sunset, have your cameras ready and take advantage of the beautiful sunset.
Aside from swimming in the beach, activities like wind surfing, kayaking, pedal boating and jet skiing are at hand for aqua sport enthusiast. For a daring escape, one can rent a boat and take a day trip activity at Fortune Island.
A word of advice! Or travel tips for vacationer. There are lots of agents around Matabungkay. Well, it would be much wiser to directly transact with the resort. With this in mind, you will end up with a better deal.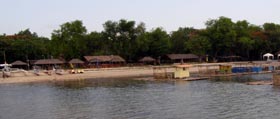 Matabungkay Beach Resort & Hotel
Nasugbu Paramount Batangas Beach Resorts
Nasugbu is premier tourist town in the western tip of Batangas. The beach has loads of translucent water and white sand beaches. It is rich with coves and dive sites.
Some of the notable dive sites in Nasugbu are Fuego Point, Hamilo Cove, Lo-oc Bay, Twin Island and Awash Reef. Underwater scenery a diver can treasure are crayfish, coral shrimps, frogfish and morays. Even a Japanese freighter, which sunk during the World War 2, can be seen in Hamilo Cove.
There are a couple of high-end resorts, hotels and exclusive residential vacation clubs in this town of Nasugbu. Most of them provide comfortable accommodations, dining facilities and convention centers. Water sports amenities are also available.
A number of notable Batangas Beach Resorts can be spotted in Nasugbu. Most of the resorts offer different accommodations suitable for the travelers' resources.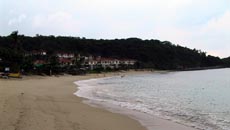 Calatagan Batangas Beach Resorts
Calatagan is a well-known get away of some of Manila's discerning families. Around this town are superb rest houses of well to do families in the Philippines. Primarily because of the ancient Spanish provincial charm and atmosphere. The panoramic view of the seascape, distant mountain ranges, and the lush tropical landscape is ideal for a memorable vacation in Calatagan.
On going development of an exclusive seaside suburban housing, hotels and retail stores in Sta Ana will create Calatagan a beach heaven for local and foreign tourist. Beach resorts around offer different amenities, thus offering you more choices.
A beach resort in Balibago main attraction is wake boarding by cable ski system. The resort also offers wake boarding lessons for those interested in the said aqua sport. Rates vary depending on the number of hours you'd prefer. Although the beachfront of the resort does not have a good swimming beach, a swimming pool is available.
Another resort along Sta. Ana main highlight is over the water cottages. Where you can have a sight of the aquamarine deck. The resort offers two-beach side to decide on. The vacation spot has a swimming pool (kids/adult), a fine dinning facility, conference room, and water sport amenities.
A vacation in Calatagan is worth a thousand words. The panoramic view will definitely give peace of mind to the holidaymakers.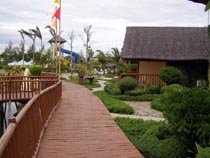 Lobo Undiscovered Batangas Beach Resorts
The town of Lobo in Batangas is also blessed with fine beaches, though only a few have unearthed the beauty of its shorelines. The coastline of Sawang, Malabrigo, Olo-Olo and Soloc are barrios where pleasant beaches do exist.
Seashores of Lobo are fine; whose marine surface drops gradually just about two hundred meters before a drop-off. Certain beaches are suitable for snorkeling, diving and underwater photography. The Submarine Garden, found in the town of Lobo, has been acknowledged to be a fish sanctuary.
Fifteen meters from the seaboard, water is clear, one can view a fish at knee-deep waters. Different sea creature can be sighted at shallow waters. Flying fish hopping in harmony is a common spectacle. While at nighttime, luminous planktons light up the water.
Although the roads leading to Lobo are bumpy, and resorts in the area are quite undeveloped. One should consider visiting Lobo, as a perfect haven for beach lovers who wants a cool out break.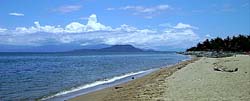 Tingloy Batangas Beaches
An island getaway enclosed with fine beaches and dive sites. Tingloy is not only a diver's wonderland; the island promises a fun filled adventure for a sensational holiday.
The Island of Tingloy is positioned near Maricaban Island and located at around five kilometers southwest of Calumpang Peninsula. The radish shaped island is the future ecotourism and sports adventure haven of Batangas.
Home
>> Batangas Beach Resorts