Lago de Oro Beach Resort


Lago de Oro (which means Lake of Gold in Spanish) is about 2 hours drive from Makati via the Tagaytay route and is 115 kilometers away from Metro Manila. The resort is located at Zobel Highway in Bo. Balibago, Calatagan, near the boundary of the towns of Lian and Calatagan. Actually it is the first resort you will see upon entering the town of Calatagan.
The resort has first-rate facilities, a swimming pool for adults and children and a playground, which your children will really love. However the beach is not so impressive. No white sand beach to speak off, and you should wait for high tide if you really want to swim in the beach.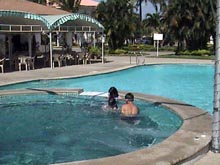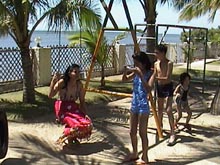 But what has turned the folks to visit the resort is the presence of the water-ski facility for cable wake boarding or cable park. (You don't have to own a boat to get into wake boarding.) Thus people realized that wake boarding is great with the introduction of cable system, in Lago de Oro. This is the reason why people flock to the resort during weekends to indulge in this adventurous aqua sport.
Schedules for wake boarding starts at 9 in the morning and the afternoon session starts at 1 PM. Wakeboarding has become a very popular aqua sport here in the Philippines, thus if you come in an instance, that a lot of people are lined up to take turns. You end up less time in the water. It is advised that you start your wakeboarding session early in the morning for you to have more surfing time.
Gears like vest, ski is inclusive in the ticket you purchased, unless you have your own equipment. It is also advisable for you to do a little physical conditioning before going into the water. The cables constant strong pull could end up with body discomforts later on specially during nighttime.



Aside from wake boarding and swimming you can also go fishing, snorkeling, ride a carabao (water buffalo) during low tide, or play golf at Calatagan Golf. (Around 10 minutes drive from the resort) Other things to do in the resort are playing indoor games like billiards, darts, and table tennis. How about collecting lovely seashells during low tide? Or relax in a water balsa and have soothing massage.
Lago de Oro has 26 hotel units with aircon, hot and cold shower accommodations. If I can recall it right, a mini bar is at hand in the quarters we had. The rooms are clean and in good condition together with the comfort rooms. During our stay we did not encounter any problems. My kids had a good time swimming and playing around the resort grounds.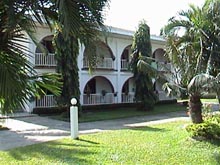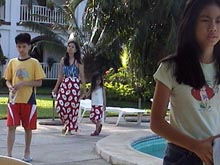 The resorts restaurant serves Italian and Filipino food. During our vacation at the resort my children ordered their favorite pizza and spaghetti. They also loved the ice cream at the resort. (You should try this food when you visit the resort.) The food at the restaurant is extremely fine in my personal view although the price is quite steep. There are no criticisms that I heard from my brood or my wife with regards to the food.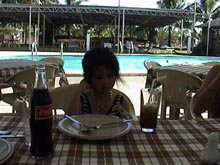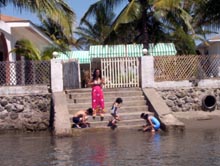 One pleasant thing I've noticed with this resort is the quietness of the locale. No too much noise, which is an opposite of other resorts. (Like the blaring sound of videoke machines.) I really love places that are serene for a vacation spot. It makes your holiday worry free and relaxing.
If you are a camera/photo hobbyist, check out the sunset, and get awed by the loveliness and enigmatic of the sun as it sets down. Lago de Oro is a good place for taking good nature shots because the surrounding of the resort is shielded with mangroves.
Contact Details
(+6343)2132006; (+63917)8982685; (+63917)5042685
email: contactus@lago-de-oro.com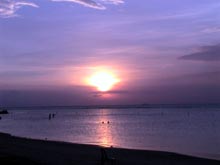 Return from Lago de Oro to Batangas Beach Resorts

Return from Lago de Oro to Batangas-Philippines.com