Batangas Food Delicacies
There are lots of Batangas foods you'll love. Batangueños are skilled cooks, and fiestas around the towns and barrios will show you their competence in cooking. Barrio Fiesta's are very common in Batangas during the month of May. Actually, you can go around the whole month of May, in different barrios celebrating their respective fiesta.
One of Batangas food specialty is kalderetang kambing (stewed goats meat). Cooked with tomato sauce, green and red pepper, potatoes, and other spices. I suggest that you try this dish during your visit to Batangas.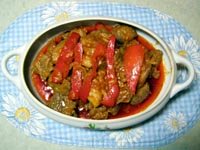 Bulalo (beef bone marrow and shank boiled) is common along the highway of Sto Tomas. Most of the restaurants serve bulalo as their special meal. Batangas beef is considered the best in the Philippines.
Lechon (roasted pig) is the Phillipines most sought after dish. But, you should try lechon, the batangas way. Batangueños has a different way in roasting the pig. To preserve the crispy skin of the pig. The sauce has a special ingredient, which makes the lechon a sumptuous delicacy in Batangas. But, for those who are concerned with their diet, lechon has a high level of cholesterol fat.
Balayan, Batangas Parada ng Lechon Celebration 
Tapang Taal (jerked pork) is a breakfast Batangas food. It is served with fried garlic rice, sunny side up egg and achara or atsara (pickled papaya). But you should try how it is being prepared in Taal. Served with hot tablea tsokolate (cocoa chocolate) poured in rice. I suggest you try this when you visit the town of Taal.


What is tablea tsokolate and what makes this drink distinctive from other hot chocolate? 
Well-known Batangas nosh called suman. 
Nilupak a sweet goody you should try. 
Snacks you should taste on your visit to Batangas 
Batangueños has a different way of cooking adobo (meat cooked in vinegar, salt, pepper, garlic and soy sauce). Adobo is usually cooked with soy sauce in most parts of the Philippines. But, in Batangas yellow ginger is used, instead of soy sauce. Making adobo in Batangas with a distinctive color of yellowish green.
Maliputo fish can only be found in Taal Lake. According to the people around the area, the fish talakitok, a seawater fish, when it enters the Pansipit River and make its way to Taal Lake, becomes a fish called maliputo. This fish has delightful milky taste and usually cooked as sinigang, (boiled with tamarind and different vegetables) or grilled, served with bagoong Balayan (anchovy). This fish is rare, making it a delightful Batangas food.
Tawilis another fish found only in Taal Lake is a small fish. Usually cooked deep-fried, and served with bagoong Balayan and green mangoes.
Read more about the Tawilis Fish 
A popular Batangas dish among batangueños is sinaing na tulingan (boiled tuna). The fish once cooked can last for days without refrigeration. Cooked in palayok (earthenware pot) for at least 4 hours.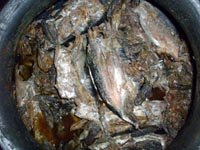 Talking about coffee, Batangas has a world-class coffee called kapeng barako (Batangas brew). Batangas being an agricultural province is rich with coffee plantations specially the city of Lipa. According to a source, coffee beans used by world known coffee shop, uses Batangas coffee beans. You should try this coffee (barako meaning strong) will keep you awake all day. Usually served in Batangas hotels and beach resorts. 
Read More of Batangas Kapeng Barako