What is suman?
Suman is a native rice cake wrapped in banana leaves, and made of malagkit na bigas, (glutinous rice) coconut milk, brown sugar and salt. An added food delicacy in Batangas.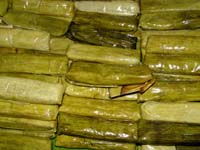 In Batangas it is usually eaten as a snack. The rice cake is also served for breakfast in most of the towns and served with hot tablea chocolate (cacao chocolate). Aside from the hot chocolate the kapeng barako (Batangas coffee) is also a favorite complement for the delicious snack.
During fiestas and special occasions, rice cakes are served as dessert or goodies around the different towns of Batangas.
In our visit in the town of Taal Batangas with my American friend Mike and his wife Sheena, we were served rice cakes as our sweet course. Mike immediately fell in love with the taste and could not resist in taking his second serving of the rice cake. Actually upon leaving, Aling Nene gave Mike an enormous amount of rice cakes to take home.
The rice cakes that Aling Nene served us during our visit was prepared differently. According to Aling Nene, the sweet rice we had for dessert where fried until the rice cakes are golden brown in color. Then, hot chocolate was poured on top of the fried rice cakes, which have a chewy nutty taste. This is the reason why Mike fell in love with the sweet sticky rice of Aling Nene.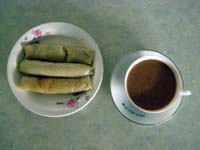 Aling Nene who personally made the delicacy told us that the secret in making a yummy rice cake lies in the glutinous rice. The malagkit rice or glutinous rice should be pure. Another secret is the low fire in cooking the glutinous rice to prevent the burning of the rice at the bottom of the pan.
A piece of advice, you can stock rice cakes into your freezer to keep its freshness. All you have to do is, put the rice cakes directly to the steamers and steam it for about 10 minutes. And for the fried suman, you must thaw the rice cakes for at least 30 minutes before frying them.
There are different rice cakes all over the Philippines. And what makes them distinctive with other rice cakes around the Philippines is the unique chewy sweet taste.
What Aling Nene forgot to hand over to Mike when we left, are some tablea chocolate. Mike together with Sheena dropped by at the public market to buy a couple of tablea chocolate for his take home rice cakes. While Mike was looking for some tablea chocolate he spotted his favorite sweet. Luckily he got his rice cakes for free and it is specially made by Aling Nene with the chewy nutty taste.
Batangas visitors, foreign and local tourists should try the suman, which is usually found in public markets and bus terminals around Batangas. The rice cakes are usually stored in large woven trays called the bilao when sold by local villagers.
Return from suman (rice cake) to Batangas Food

Return from suman (rice cake) to Batangas-Philippines.com