Matabungkay Beach Resort & Hotel
Matabungkay Beach Resort & Hotel is located in Barrio Matabungkay town of Lian, Batangas. It is around 2.5 hours drive from Manila. The best way to travel to Lian, is via Tagaytay City.
If I can recall, the resort is about 30 years or more in business. What fascinates me most is the good maintenance work; the management has done in maintaining the resort. If you will visit the hotel rooms you can witness what I'm trying to emphasize. The rooms and bathroom are clean and well maintained.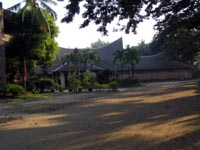 The resort has two swimming pools, an adult pool and another pool for kids. Where my youngest daughter learned how to swim. She can now swim in the adult pool. Lifeguards are visible particularly if children are visible in the pool area.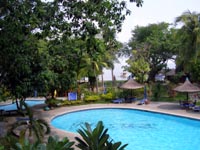 Sand in the beach is white with clear water, but taking a swim at the beach is not possible especially during low tide. Water is shallow even at high tide. Making it very safe for swimmers. Villagers around the area suggest taking a swim at another shoreline nearby, if you really love swimming in the beach.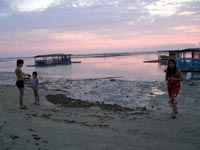 A boat trip to Fortune Island could be arranged for a day trip at the reception area. Sorry to say we did not have a chance to see Fortune Island, because my children are afraid to ride a motorboat. Or, a trekking adventure which would let you enjoy scenic views of the mountains.
Resort facilities like tennis, basketball, and volleyball courts together with water sport facilities are available in the resort. Steam sauna and a floating spa are offered to those who need a relaxing massage. Even a haircut is possible in the resort. Conference rooms are also available for company seminars, meetings and parties.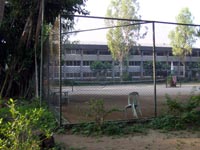 The food in my opinion is fair in taste, but a bit expensive at Café Caballero. Serves International and Filipino food. Camachile Bar & Grill is open for dinner on Friday and Saturday only, which is located near the beachfront. For the heavy drinkers, the Cogon Bar serves any drink you can imagine. The costs of the drinks are almost the same price as the bars in Manila.
Matabunkay Beach Resort & Hotel regularly holds monthly promotions. Depending on the month's theme. Live band performance, children's workshop and other special events are celebrated in the resort. Held usually on weekends.
Contact Details
(+632)7525252; (+632)7516683; (+63917)8341269
email: inquiry@matabungkay.net