Taramindu Beach Garden Inn, Laiya, Batangas
Laiya beach is one of the chosen weekend getaway beaches in Batangas. First and foremost it is a short drive from Manila, with white sand and clear water.
It was a long weekend and my family decided to have an overnight break at a beach. We all decided to head towards San Juan town and went straight to Laiya to look for a resort for a budget friendly weekend.
After less than three hours drive we spotted Taramindu Beach Garden Inn. The name, which was taken from century old tamarind trees, which are very common in Batangas and still stand in the resort grounds.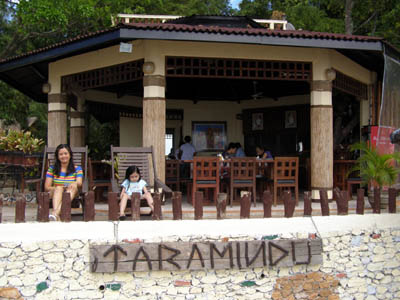 A courteous staff named Tonette, greeted us and showed us around the resort. After a brief assessment, we decided to take one of the nine Standard Guest Rooms.
We got the room beside the dining hall called Balukbaluk, which is closer to the beach. The room is around 4 meters by 4 meters with 2-queen size beds. However some Standard Rooms have double-decker beds, but I opt to take the room without it and got an additional mattress instead, for my son.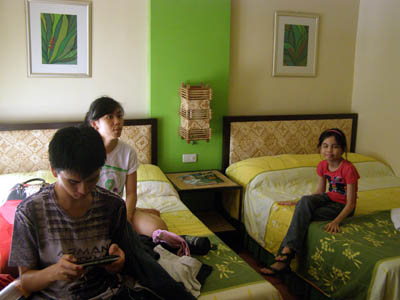 It is equipped with air-conditioner, a small TV with DVD player. With individual untainted toilet and bath as well as hot and cold shower. The room is well lit with a lampshade and a wall lamp, which makes the room feel cozier.
We arrived at Laiya noontime, and after unloading our things we proceeded to order lunch. We had crispy squid head, fried chicken, pancit canton (noodles) that satisfied and filled our tummy. For snack, dinner and breakfast the food was great, flavorful and of reasonable price.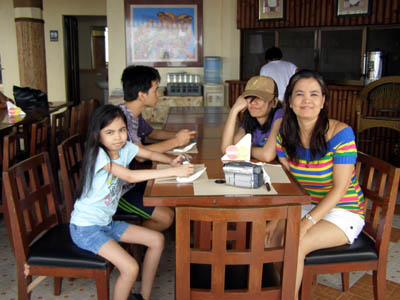 Balukbaluk dining hall serves mostly Filipino food, and an ala carte menu. Which is somewhat unique in the area. Most resorts around offers all you can eat buffet meals. And leaves you with no option on what you want to eat. Which gives Taramindu Beach an edge with other resorts in the area.
Although Tamarindu Beach has the smallest area, the shoreline has clear water with the finest sand along the 7 kilometer white sand beach in Laiya and Hugom area. My kids enjoyed swimming in the beach (which they don't usually enjoy) and watch the small fishes at low depth.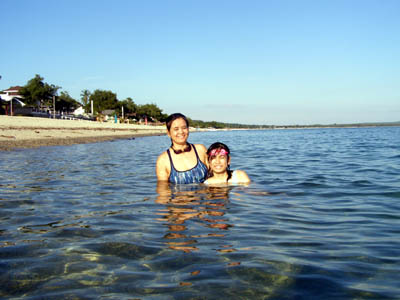 The only negative thing I see in the beach is that it gets deep after around 3 meters. So I advice parents to stay a closer look on your children when swimming in the beach. And suggest resort owners to have lifeguards, which their presence where unnoticed during our stay.
Aside from swimming, kids can occupy themselves with beach volleyball, which my eldest daughter prepared for and brought along her ball. Together with the whole family we sweat it out and enjoyed the game. And for badminton lovers, a flat sand court and rackets are available for free.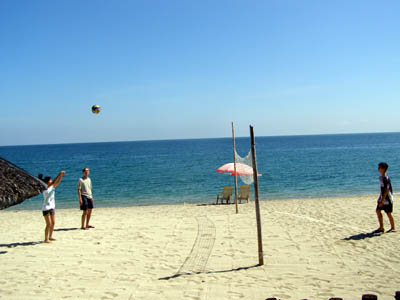 If you feel tired and would like to have a massage service, the resort can arrange an hour of relaxing massage while sipping your favorite drink in their open bamboo huts along the beach.
Or take your family for a bangka or boat ride and have a tour around the coastline and at the same time snorkel and explore the marine life of Laiya. Or if you are the adventurous type, how about renting a jet ski or a banana boat.
The third floor or the roof deck is where you can sing and have a couple of your favorite drink. Well, I don't have a singing voice and opted just to have a couple of cold beers with my son, while my two daughters and their mom occupied themselves with their laptop.
Taramindu Beach Garden Inn in Laiya is a perfect choice if you are considering your break in Laiya.
Contact Details
(+632)7758576; (+63917)8240024; (+63922)8187581
email: taramindubeachgardeninn@yahoo.com