Vistamar Beach Resort & Hotel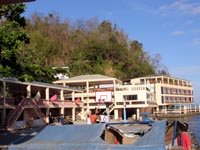 Vistamar Beach Resort and Hotel is about 2.5 to 3 hours drive from Manila. Located in Anilao, Mabini Batangas.
Travel Direction to Anilao, Mabini Batangas
The beach resort is situated beneath a hill. The water is clear, although the beach is rocky. Mountains surrounding the resort make the view an excellent nature sight. And don't forget to bring your camera along for some great pictures.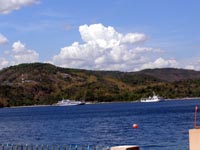 When you say Anilao in Batangas, it generally means diving, or you want to go diving. Because Anilao is famous not only in Batangas, but anywhere in the Philippines for its dive sites.
I'm not really a diver or have dived even once. But, according to a visitor whom I met at the resort. A few meters from the shore, there is a drop-off that goes down 140 feet. Which means that you don't have to rent a boat to go diving in Vistamar Beach Resort.
The resort offers scuba lessons, windsurfing, fishing, and other aqua sport. Outdoor sports like basketball, tennis, and volleyball courts are available at the resort. Swimming pool, restaurants, function rooms, are some of the current facilities in the resort.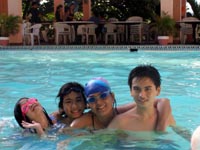 The food in the restaurant is good. We ordered pancit canton (Chinese noodles) and crispy pata (crispy pork leg), which my children really love. The price is reasonable and offers a variety of dishes. But the resort allows food to be taken inside the resort. A big savings for those in a budget vacation. There are barbecue grills near the basketball court for your favorite charcoal broiled dishes.
In my opinion the resort was not planned properly. Facilities of the resort was not designed properly. An example, room assigned to us, has a window in front of the basketball court. The swimming pool is too far from the beach; you have to cross the parking lot to access the pool area.
Stunning vista, natural landscape, and good location of the resort was put into waste. Although this is my own point of view, the resort could have been better if proper planning was made before the resort was built.
Room facilities like toilets and hot water does not work properly. We complained at the front desk twice, and nothing happened. No service maintenance came over to fix the problem. Another negative aspect of the resort is the maintenance of the rooms. Room assigned to us has musky smell, with mosquitoes flying all around the room. The beddings are not that impressive together with the blankets, pillowcases and towels.
I suggest that you take the rooms beside the restaurant, if you are planning a beach vacation in Vistamar Beach Resort. The way I see it, rooms near the restaurant are of better standards than the rooms near the basketball court.
Contact Numbers
(+632)8218332; (+632)8238265; (+63917)5044831