Rosegold Beach Resort & Hotel
Rosegold Beach Resort & Hotel is an alternative vacation spot in Calatagan, Batangas.
In one of my visit in the town of Calatagan, after inspecting an ongoing creation of an exclusive beach resort in the area of Sta. Ana, did notice a resort with a different concept in their accommodation. Although I have seen this kind of lodging in other places, considered this unique here in Batangas.
In spite of the fact that we have not stayed at the resort, and just had a brief inspection of the place. I decided to write an article about the place to give local and foreign travelers an added choice in their intended visit to Calatagan.
The holiday homes of the resort are sited at the bay, which gives their guest a soft whisper of the waves. This allows resort guest a fresh experience, where one can have a view of the aquamarine bottom.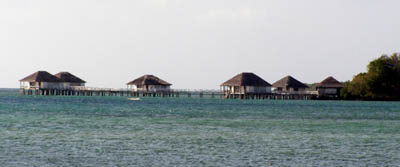 Their accommodation ranges from small family of 3, to big groups who would like to unwind in a different beach vacation setting. Rosegold Beach Resort & Hotel's cottages can easily accommodate 20 persons for their large holiday homes an ideal choice for corporate outings and seminars.
Every cottage at the resort has a spacious living area and a private veranda for the holidaymakers to feel the fresh breeze of the sea. A good place to hang out to observe the marine life underneath, or enjoy the stunning sunset of Calatagan.
The grounds of the resort have adequate space for you to stroll around. In fact the resort offers two white sand beach areas. While judging from where I stand during my trip at the resort, the seawater is not deep enough for one adult to take a good swim at the beach. Well, sounds positive for the kids to have a safe swim at the beach.

However, if you don't want to swim in the shallow waters of the beach, a swimming pool is available. The pool is beside the Pavilion where guest can sun bath and have some refreshing drinks.
The resort has a restaurant, which serves Fil-Hispanic and International dishes. A bar is also at hand to serve your favorite cocktail drinks.
For the hotel guest who loves water sports and to enjoy your stay at the resort, there are varieties of sport activities to choose from. Scuba diving facilities and a speedboat are available for those who would like to discover the marine life of Calatagan. Other activities possible are jet skis, boat riding, and wakeboarding.
The resort also accommodates company seminars, conferences, teambuilding and other corporate activities. The resort is equipped with projectors, whiteboards, audio, video system and other seminar facilities.
Rosegold Beach Resort & Hotel is a spot to consider if you are planning to take a break in Calatagan, Batangas.

Contact Details
(+632)6876139; (+632)6876141
email: sales@stiltscalataganbeachresort.com