Blue Coral Resort Laiya, San Juan
Dropped at Blue Coral Resort in Laiya, San Juan. The beach resort is 3 hours drive from Manila. Located on the coast of Sigayan Bay at the southeastern tip of Batangas.
Travel Direction to Laiya beach in San Juan, Batangas
The beach is splendid, all covered with white sand. Seawater is limpid; one can see the bottom of the sea. Although a bit rocky, the rocks are not that sharp to hurt your feet. The calm water makes it ideal place for a good swim at the beach.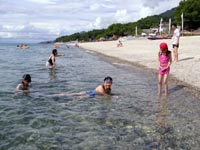 Swimming facilities like an adult and kiddy pool are on hand. This is especially good if you have children who are afraid to swim in the beach. This is why my youngest daughter Angel prefers swimming in the pool. Pools are clean and well maintained with warm or heated water.
During our stay at Blue Coral Resort we had a Beach Side room. The room is about 20 sq. m. with 2 double size beds with one thin uncomfortable mattress. It's air-conditioned with TV and refrigerator. The room looks new, well maintained and clean.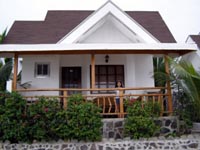 The resort offers other accommodations that are appropriate for the guest. A big Main House lodging for big families or groups to rooms suitable for a pair who would like to have beach holiday.
The bathroom and toilets are clean. But the shower needs to be replaced. Same as the water heater, which do not function properly. Low water pressure is another negative aspect of the resort. Another improvement that the resort should add are racks for bathroom needs like towel rack, etc.
We complained about the heater problem and low water pressure. But, no action was made to satisfy our complaints.
Management must realize that they should at least make a way to do something positive to fulfill their customer. Being in the service type of business, customer satisfaction should be their priority.
Besides swimming, water sports facilities like kayak, banana boat and boat touring are obtainable for a rate. One can hire a jet ski, if the guest would like to discover the beautiful white sand beaches of Laiya and Hugom in San Juan.
For the indoor game lovers, billiards, table tennis and darts are on hand at the 2nd floor of the resort.
And for the heavy drinkers a bar is accessible at poolside area.
The buffet food, which they served during our stay, was below par. Tuna sandwich for snack was served when we arrived at the resort. No choices. Dinner and lunch has three viands all are below standards. Breakfast food and dessert are canned goods. Canned luncheon meat and corned beef was served for breakfast. While canned fruit cocktail was served as dessert.
My family was totally dismayed on the food that Blue Coral has served us. I think they should immediately address the cuisine problem. Food is an essential aspect they should look at, to maintain a good standing in the resort business.
The resort staffs however are approachable, well mannered and helpful. They respond to the guest concern right away. However some aspect of the problem are beyond their control.
In my opinion Blue Coral needs a competent hotel and restaurant manager to administer the daily operation of the resort. In this way problems will be resolved in the soonest time possible.
The place has a good clean and clear beach. But there are a lot of transformation the resort management should change.
Contact Details
(+632)5599747; (+632)5599754; (+632)9868668
email: info@bluecoralbeachresort.com.ph