Palm Beach Resort
A beach resort in Hugom San Juan Batangas I visited together with my family is Palm Beach Resort. The resort is just after the boundary of Laiya and Hugom. It is around 3 hours drive from Manila. But, you have to drive into an uphill dirt road before reaching the resort.
Travel Direction to Laiya and Hugom beaches in San Juan, Batangas
What I really like about the resort is it secluded to other beach resort in the area. No to much noise and very peaceful. The resort is located beneath a hill. Upon entering the resort entrance you get a good view of the beach. And the beautiful mountains along the beach.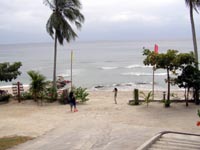 The rooms are well maintained, and nice. With usual amenities like refrigerator, television with DVD player. Although cable television is not available. Verandas in all rooms are available, and a good view of the beach while relaxing and reading your favorite book. The comfort rooms are clean with hot and cold shower.
One good thing about the resort is that they prepare the food for their visitors buffet style. So you don't have to worry preparing for your food, mommy will have more time to relax. The food is based on a per head basis, for your stay in the resort. And the food is superb in taste.
The resort staffs are accommodating and honest. Even a mobile phone charger was returned to us when we are about to leave the resort.
During our trip to the resort, mass was held in the pavilion after a refreshing snack. I loved this idea because you don't have to worry about the Sunday mass. Makes you feel more relax and worry free.
The sand in the beach is white, but there are some spots with grayish to black sand in the shoreline. I asked the villagers if it is a trace of an oil spill, but their response was that it was really the characteristic of the sand. The shoreline is clean no traces of trash along the beach.
Water is clear, but bottom is quite rocky. I recommend especially children to wear rubber clogs, or beach sandals. The resort also rent out one, just in case you don't have one. Fish of different colors and other sea creatures can be seen even at shallow waters. Snorkeling at low depths is possible.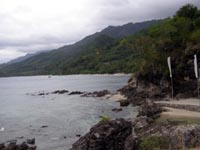 Palm Beach resort is bounded with mountains, hiking along the shoreline, and taking pictures of the striking sceneries will definitely thrill you. Climb the big stones near the shoreline and feel the breeze and enjoy the great view.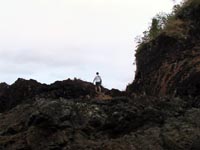 Contact Numbers 
(+632)836-8956; (+632)850-9544; (+63920)9289432