Malabrigo Lighthouse
Faro de Punta de Malabrigo, is one of the 24 lighthouses erected in the Philippines during the course of the Spanish Colonial period.
The century old lighthouse can be spotted at the top of a cliff in the town of Lobo, Batangas. It is overlooking Verde Island and Mindoro from afar. By private car it is around three and half hours drive to get to see the historical landmark.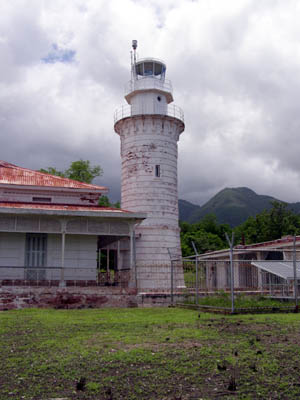 During the Spanish colonization, an order was made to construct lighthouses in key maritime routes throughout the Philippines. Its foremost purpose is to safeguard the growth of maritime traffic the Philippines is experiencing.
Faro de Punta de Malabrigo was built by Jose Garcia and designed by Guillermo Brockman and construction was finished in 1896. Its architecture was Victorian inspired, with tower, pavilion and service buildings, were incorporated to accommodate the lights as well as the caretakers who would operate the lighthouse.
Although the upper part of the tower has been renovated. It still uses the old round brick tower as its base. At the same time the original lantern and lens were replenish with halogen light and now uses solar power. It stands at 56 feet and comparable to the Calatagan Lighthouse. A steel spiral staircase is at hand to reach the top most part of the tower.
The pavilions were built using bricks. Together with hardwood like narra and molave were used for the beams, trusses, doors and floors. While attractive metal grills surround the fence, balconies and windows. And iron sheets were used as roofing.
Since February 2004, the Thomson family has adopted and preserved the lighthouse with an arrangement with the Philippine Coast Guard. Unfortunately, in 2006 an unauthorized crew filming a movie did some damage to the lighthouse.
During our visit, we were unlucky not to come in and ascend the lighthouse. The keeper was out, and we opted to check it from a distance. And simply obtain pictures of the lighthouse.
Sometimes called Cape Malabrigo or Malabrigo lighthouse is a suitable place for photography session. Need a charming seascape photo and test your SLR Nikon or Canon camera? There is a concrete stairway, which leads you to the seashore and shoot some lovely seascape and high wave images.
If by chance you happen to come across the town of Lobo, Batangas. Either you are out there for a beach vacation, or a business visit, it is a good idea to drop by and see the century old lighthouse.