Sari-Sari Store
In one of my jaunt in batangas, a sari-sari store made me realize the importance of it, for travelers not only in commodity needs of a traveler. It is a suitable place, where a traveler can ask for direction and information.
We are bound in the lakeshore town of San Nicholas, to get some fresh tilapia fish to be grilled for dinner. The sun was shinning with a clear sky, which made us stop for a halo-halo snack at a sari-sari store along the road.
While having our delicious ice-cold halo-halo, I chance upon a group who gave us some information on where to get fresh, low-priced tilapia fish. The group even gave us the direction on how to get to the place of Mang Gimo a known fresh tilapia retailer from San Nicholas town.
Well, you might get me wrong that a sari-sari store is only for information and direction. It is actually a convenience store, which is practically present in communities around Batangas and all over the Philippines.
Sari-sari, by the way means all kinds or various. The store sells all kinds of everyday essential goods in miniature packets, or as a single item, which is commonly referred as "tingi". An individual can purchase a small amount of cooking oil or a piece of egg according to his/her budget. Even a cigarette can be bought by the stick.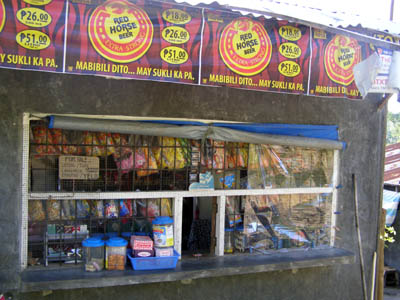 Examples of various essential items available are sugar, salt, coffee, canned goods, candies, soft drinks and of course ice-cold San Miguel Beer and the most like liquors like gin, brandy and rum. All vital needs that are commercially viable in the community are sold in a sari-sari store.
The store also saves members of the community in transportation costs, particularly those in far-flung areas. And if you are really dried up in cash and in good credit standing, you can take the goods on credit.
It is also a usual small-scale industry in Batangas that could serve as a primary source of income. And for starters, it could mean a secondary income source. The store requires minimal investment, while most stores are only in the side of the house, or part of the house. Family members help in the daily chores of the store, which adds additional savings to the business.
One distinctive thing about the store is that the customer is outside the store. The customer must pinpoint the goods he wants to purchase and the goods are transferred from a metal bar opening in front of the store. Goods are hung from the ceiling and small items such candies are placed in small plastic jars for the customer to have his/her choice. However, it is impossible to display all the items it sells, but most buyers have the knowledge that the most basic items are sold.
Commonly found outside the stores are wooden benches for customers to consume their purchases like snacks and their favorite drink. While some bigger stores have tables and shades for customers who would like to hang around.
In Batangas, the sari-sari store could also be a good place to hang out. Housewives while making the purchases meet and chat about latest gossip around the block. It is also a meeting place for husbands to meet after hard days work and have some cold beers or a couple of shot of their favorite gin.
So a sari-sari store is not only a place you can purchase your immediate needs, or maybe have some information and direction. It is also a place where you can have fine time with the neighborhood and get to know them.
Return from Sari-Sari Store to About Batangas

Return from Sari-Sari Store to Batangas-Philippines.com