Maya-Maya Resort
The Sanctuary Spa at Maya-Maya Resort is located in Barrio Natipuan, Nasugbu, Batangas. It is nestled around the mountain coves of Nasugbu. The resort is about 3 hours drive from Manila. Best way to get to the resort is thru Tagaytay City.
When my family drove to the resort we were amazed with the wonderful natural view on the uphill winding roads. You could catch a glimpse of the surrounding mountains and ocean with a picturesque of nature.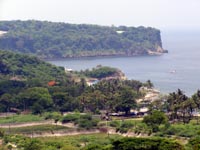 Upon entering the resort grounds you can feel the freshness of air with trees that mantles the site. The area is silent; bird chirping, and other natural sound is all you can hear. An ideal vacation spot for those who desire to have an undisturbed break.
For the boat and yacht owners, Maya-Maya Yacht Club offers a typhoon-protected boat marina with wet-berths. Major boat repair and maintenance facilities together with a marine travel lift for large yacht are available for members of the club.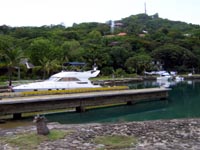 Cottages are made of nipa (thatch made of leaves) and sawali (interwoven splits of bamboo for walling), which makes the visitor resemble living in a barrio. During our stay kulambo (mosquito net) was put in our beds before day breaks. My children immediately went inside to have a feel, which was new to them. Cottages are equipped with air-conditioner, and refrigerator with a mini bar.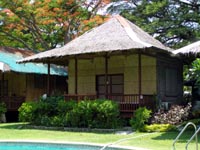 Water in the beach is clear and you can actually see your feet in waist-deep waters. But the shoreline is quite small and rough stones are present particularly in the shallow area. Going further, 8 meters to 10 meters from the shoreline has less stones and the water at a minimum level (waist deep at low tide).
Hate the rough stones in the beach! A swimming pool is available to cool you down and refresh you with the heat of the sun. My family had a great time horse playing in the pool most of the time in our stay at the resort.
Food served during our stay is good, although a bit expensive. The best that we have tried is the Maya-Maya Cheese Burger. The burger was juicy and big enough to fill your hungry tummy.
My daughter Michelle after having lunch, discovered colorful fishes, crabs, and other sea organism in the clear waters at the wet-berths area. We had a nice time observing the different sea creatures found and discussed each new organism found. My youngest daughter Angel even named the fishes with names of characters from the movie Memo. A good thing rain clouds covered the heat of the sun. And thank God it never rained.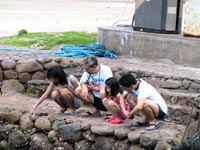 Facilities for diving are also available together with dive courses. Recreation facilities like Sunset Cruise, Fishing and Beach Hoping can be made for a more thrill-seeking endeavor.
A spa is also available for those who want a relaxing massage or a traditional Filipino hilot (massage). Body treatments, facials and foot therapy are some of the services offered.
During our stay at the resort, we encountered a problem of low water pressure in the shower and no hot water. The problem was looked into right away, but was offered to use the shower room of another cottage nearby. These make the resort management commendable in customer care in my on view. Even though it's quite difficult to transfer from one cottage to another, just to take a hot shower.
The resort staffs are courteous, helpful, honest and friendly. Cottages are cleaned at a regular basis. After having a swim and breakfast, we noticed that our room was cleaned and beddings were put into order.
A suggestion if you do plan to have a break at Maya-Maya. The resort considers weekdays as an off-peak rate. If you can make yourself free on a weekday!
Contact Details
(+63918)9097170; (+63918)9097167
email: info@mayamaya.com