General Malvar Museum and Library


In one of our trips to Batangas, we decided to take a peek at one of the province Historical Landmarks, the General Malvar Museum and Library.
The trip to the museum will definitely be a useful jaunt for my kids. It will benefit and strengthen their understanding of the Spanish and American era in Philippine history.
An individual with such exceptional character and a Philippine Revolution Hero is Gen. Miguel Malvar.
One cannot miss the museum when traveling in the town of Sto. Tomas. It is located in the same place where the Municipal Hall of the town is situated at Gen. Malvar Street. There are also signs, strategically located along the route.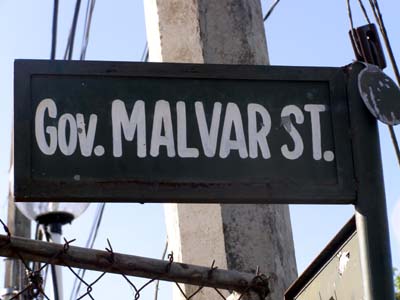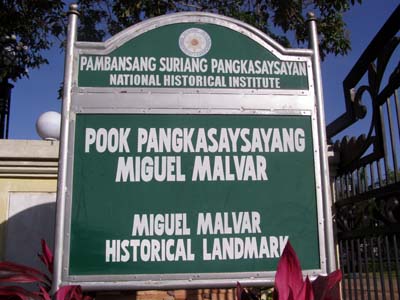 At the site, on the center stands the monument of General Miguel Malvar.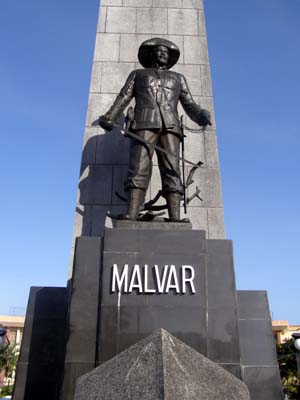 Malvar's Life and as a Philippine Revolution Leader
General Malvar was born in Barrio San Miguel on September 27, 1865. His parents are Maximo Malvar and Tiburcia Carpio. Miguel's parents were able to send their offspring to school by logging, and owning rice and sugarcane fields.
Malvar first studied at Padre Valerio Malabanan School. He could have studied in Manila because his parents are well to do in Sto. Tomas, instead he helped his parents with their business. He even discontinued his education and only finished second year high school.
He later got married to a childhood friend Maula Maloles and had children. He procured lands, which he planted with oranges to support his family and succeeded and prospered.
In 1890, Malvar was voted gobernadorcillo of his town against Father Garces. He led the Reform Movement in Sto. Tomas, which had a tremendous following due to intense anti-friar emotions.



In June 1898, Malvar was appointed division general and liberated Tayabas from the Spaniards after two months of battle. The Pact of Biak-na-Bato finished the aggression between the Spaniards and the Filipinos. And in August 13, 1898 the Spaniards surrendered to the Americans.
However, success with the Spaniards lasted only for a short time. Malvar has a new enemy, the Americans, and his battle with the Americans started on February 4, 1899. The Malvar's Batangas Brigade attacked the American garrison in Muntinglupa and succeeded.
Nevertheless after a triumphant battle, he was no longer successful in fighting the Americans, and resorted to guerilla tactics. As time passed by, collaboration became widespread and support for Malvar decreased significantly.
Malvar's previous officers became volunteers for the American forces. Left alone, with his sick wife and children, he surrendered to the Americans on April 13, 1902.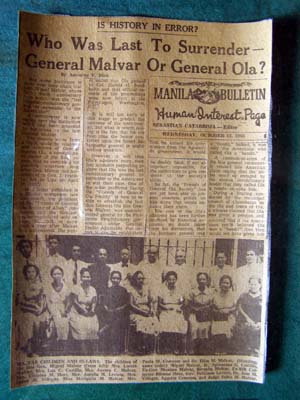 Malvar returned to his farm, and choose to have a peaceful and comfortable life. He died of liver ailment in Manila on October 13, 1911.
Malvar Memorial Library
At the left side of the monument, you can sight the General Miguel Malvar Library. Here you can find some of his personal belongings. The photos below are some the things you can see at the library.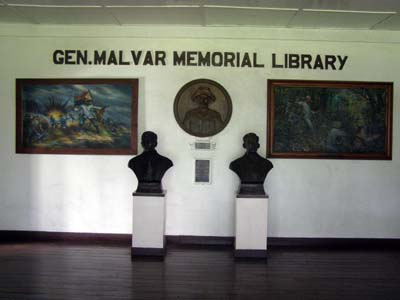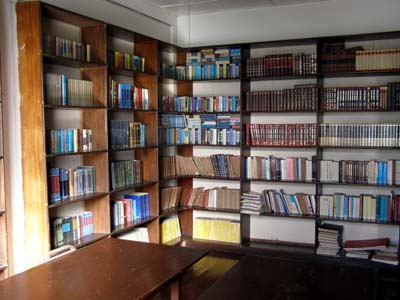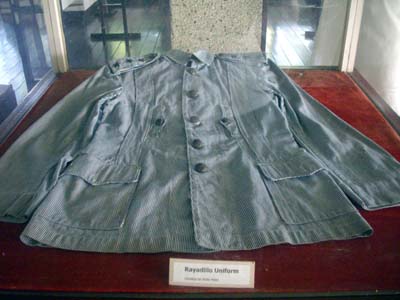 Books about Philippine history are on display and can be bought at the memorial library. My daughter purchased some that interested her.
Miguel Malvar as the Second Philippine President?
A Philippine lawmaker from Batangas and Oriental Mindoro, namely Hermilando Mandanas and Rodolfo Valencia filed a House Bill to state Malvar as the Second Philippine President. The lawmakers stated that history is erroneous in creating Manuel Quezon as the Second President of the Philippines serving after Emilio Aguinaldo.
General Trias was considered the successor of President Emilio Aguinaldo. However on March 15, 1901 General Trias surrendered to the Americans, thus General Malvar is next in line to President Aguinaldo.
Based on historical records, Malvar is the Philippines Second President. The Philippine history should be corrected for surviving generations to preserve Malvar's legacies.
The House Bill is still pending at the House of Representative. A house approval will mean a significant revision in Philippine history.
Return from Gen. Malvar Museum to Places To See & Visit

Return from Gen. Malvar Museum to Batangas-Philippines.com