Batangas Golf Courses


Most of the golf courses in Batangas can be found in the western side. Two can be found in the town of Nasugbu, one at Calatagan and another at the town of Laurel. However, in the eastern side there are two and both are situated in Lipa City. Here are the lists of golf courses in Batangas.
Evercrest Golf Club and Resort
If you are traveling to Batangas and headed to the western side, the first resort you will hit on the road is Evercrest Golf Club and Resort. The golf club and resort is located in Km. 72, Batulao Nasugbu, Batangas. It is just after the boundary of Batangas and Cavite right after Tagaytay City.
The golf course is an 18-hole Championship course with Tifton grass fairways and Tifdward grass greens. Arnold Palmeer planned the course and has a tough fairway, profound ravines and abrupt hills. The course is all weather to give the golfers at Evercrest an experience of playing a par-72 championship course.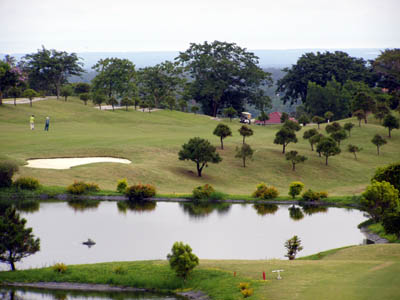 Golf facilities such as putting, pitching greens and cuddies are available. A teaching golf professional offers instruction for all ability levels can be had at the club. A clubhouse with shower rooms, Jacuzzi, sauna, driving range, function rooms are some of the facilities on hand.
The resort also offers accommodations, and has 76 deluxe rooms, which is just beside the golf club. Hotel guest with room can automatically play golf in the resort.
Club Punta Fuego
Another golf course found in Nasugbu, but this time it is at the other end, or in the boundary of Nasugbu Batangas and Tarnate Cavite. The club is near the popular beaches of Nasugbu, and located in Balaytigue Nasugbu, Batangas. It is around two and half hours drive from Manila.
The nine-hole golf course is designed by Nelson and Haworth and a par 29 course. Waters of the South China Sea mostly surround the golf course. Thereby giving the golfer a cool view and a relaxing atmosphere while playing golf at Club Punta Fuego.
Golf facilities like driving range, putting and pitching greens are available. A modern day clubhouse, spa, health and fitness center are additional services the club offers.
Club Punta Fuego is exclusive for members only. In order for you to play golf at the club, non-members must be accompanied or sponsored by a member. (Sorry, but you have to look for a member in order for you to play.)



Canyon Woods Resort Club
Canyon Woods is located in Diokno Highway in Laurel, Batangas, and along Tagaytay Ridge. The club resort is overlooking Taal Volcano and Taal Lake belt, which gives the players a fresh sight of the lake and the volcano.
The golf resort is a nine-hole mountainous course conceived by Nelson and Haworth. The golf course is considered one of a kind due to its natural terrain and deep ravines. The greens follows the standards set by USGA and the golf course is considered to be an all-weather golf course.
Resort facilities include a Clubhouse, Lounge, Business Center, Health Spa, heated swimming pool, mini theater, and a lot of exciting things to do in the resort.
Different types of accommodations are available from one person to a family as large as twelve. Studio Type bedrooms are at hand and for those with their families, two bedrooms houses to four bedrooms houses is offered. And of course this entitles you the use of their golf course, which is incidentally are for members only.
Calatagan Golf Club, Inc.
The golf club is around 2 to 3 hours drive from Makati, and located inside the hacienda of the late Don Enrique Zobel at Hacienda Bigaa, Calatagan Batangas.
The golf course is a par 71, 18-hole Tifton grass green International Championship Course. Golf course designer Robert Trent Jones Jr. is responsible in creating the golf course in 1978. The course has a splendid vista over a lovely bay and is located in an area planted with 3,000 trees species.
The golf club is a private club. Guest must be accompanied or introduced by a member in order to play golf. However special arrangements can be made for unaccompanied non-members at their Makati office.
Mount Malarayat Golf & Country Club
At the eastern side of Batangas, Mount Malarayat Golf & County Club is one of two choices you can take. Located in Lipa City, and around one to one and half hour drive from Makati.
The golf course is a 27-hole all-weather Championship Golf Course, planned by J. M. Poellet. The course has a breathtaking view of Mt. Malarayat and its cold winds coming from the mountain. Mount Makulot par 5-hole number 7 was polled by Golf Magazine as one of the top 500 Best Holes in the world.
Mount Malarayat Golf & Country Club is a private proprietary club. Non-members who wish to play must be accompanied or sponsored by a member. Although the club offers accommodations, a guest with hotel room is entitled to play during his/her stay at the hotel.
Summit Point Golf Club
Another golf course in the eastern side, and also situated in Lipa City, is Summit Point Golf Club. It is the more exclusive golf course in Lipa City and likewise found beneath Mount Malarayat.
A 18-hole, all-weather championship golf course designed by Robert Trent Jones Jr. The golf course is a collection of golf holes, inspired by holes at some of the best-known course in the world. The course sits along with bamboo forest and coconut palms underneath a backdrop of lush mountains.
According to the designer of the course, Robert Trent Jones Jr., "Summit Point Golf Club was the first international golf course specially designed as a celebration of the best that golf has to offer from throughout the world."
Return from Golf Courses to Things To Do

Return from Golf Courses to Batangas-Philippines.com