Golden Sunset Resort
Golden Sunset Resort is located in Barrio Uno, Calatagan Batangas. Travel time from Manila to the resort is about 2.5 to 3 hours drive. Best way to travel to Calatagan is thru Tagaytay City.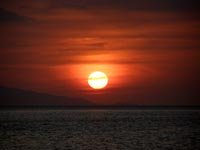 Get a glimpse of the picturesque sunset at Calatagan Batangas.
The resort serves as a family vacation spot, which the children will enjoy of the enormous activities in store. A butterfly sanctuary for children to observe, playground and kids room to keep them engaged, and have a fun filled day. An outdoor museum that contains artifacts found in Calatagan, during the early days can be seen in the resort.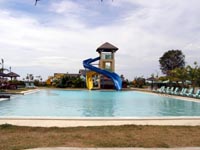 The resort ground is huge with lots of facilities. For the swimming pool alone, there are about four pools if I can recall it right. There is even a pool wherein you can have a rainfall massage. You should try the rainfall massage, which is very comforting. But all the pools are shallow, which the little kids will surely enjoy.
The beachfront of the resort doesn't have a good swimming beach, plus the fact that there are fishponds inside the resort. Remember there are pools around the resort for your swimming endeavor.
Go fishing in the fishpond, and have it cooked at the Fishpond Restaurant, and enjoy the delicious freshness of the fish. Another restaurant inside the resort, Cusina de Oro serves international cuisine. Café Veranda and Café Fiesta serve snacks and drinks.
For those who prefer to relax in the resort, a soothing luxury spa lies ahead for lighter body feel.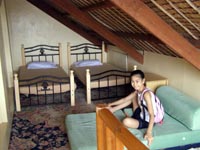 The Deluxe Room we had during our stay has a nice interior and an attic. The shower room is clean and well maintained. During our stay, we encountered a problem in the water supply. But was immediately addressed as soon as we advised the front desk about the problem.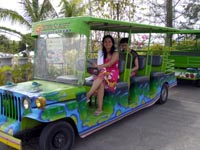 Because of the huge area of the resort, Golden Sunset provides a utility vehicle for use inside the resort. The vehicle is very convenient in checking in and out of the resort with the entire luggage to carry. Reminds me of the old resort Punta Baluarte which is also located in Calatagan.
A word of advice if you plan to visit the place, credit cards is not accepted in the resort. The resort also uses Golden Sunset Passport in purchases inside the resort. You have to purchase the passport upon checking in at the resort. There are denominations you can choose from, and the unused balance can be refunded upon check out from the resort.
Contact Numbers
(+632)7572250 to 52; (+632)8897396