Canyon Cove (Formerly White Cove)


White Cove now called Canyon Cove is about 2.5 hours drive from Manila. Situated in Far East Rd., Piloto Wawa, Nasugbu, Batangas. The resort is just 5 to 10 minutes drive after the town proper of Nasugbu.
When my family visited the resort it was still called White Cove under the management of United Coconut Planters Bank, a local bank here in the Philippines. The resort then was unfinished. There is a remnant of a swimming pool being built, and unfinished buildings. Unfortunately the Evercrest group had some financial problems, so the development did not push thru as planned.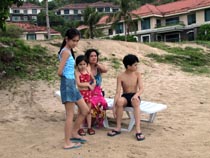 After a joint venture with Tagaytay Grassland Co., Inc., (Canyon Woods) it was relaunched as Canyon Cove, into a condominium, hotel, and resort complex. Renovations were done, and the swimming pool was completely built.
But, anyway the location was good with a cool view of the hills and coves of Nasugbu. The water is clear and the bottom is quite rocky. But going further deeper, the bottom gets less rocky. (Bring a beach sandal if you intend to take a trip to the resort.)
One good thing about this resort is that it is the only establishment inside the cove. Making the beach exclusive for the resort guests. The beach doesn't get too crowded unlike other beach resorts. A good vacation setting for those who want a discreet and a relaxing holiday.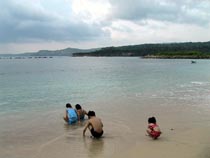 The rooms are attractive with good interior design. Bathrooms and toilets are excellent. There is a bathtub and a separate shower room. A good idea, especially if you have two or more children. (Less time waiting for your turn to take a shower.)
I personally cannot discuss about the facilities of the newly refurbished resort at its present state. But a friend of mine Dave, who recently visited the resort, told me that he was satisfied with his recent vacation into the resort. The only comment I heard from him was, "it's quite expensive". Compared too, when it used to be White Cove.
Another information I gathered from Dave was, acquisition of residential lots, or a condominium at Canyon Cove is now viable. Good news for beach lovers and foreigners who would want to settle in a beach in Batangas.
Considering that the resort is newly remodeled with a good view, and open to the public. (Most beaches in Nasugbu are for members only) I suggest that if you plan to have a vacation in Nasugbu, it is a resort to be considered.
Contact Details
(+632)9081111
email: reservation_canyoncove@g2globalinc.com



Return from Canyon Cove to Batangas Beach Resort

Return from Canyon Cove to Batangas-Philippines.com