Caleruega – A Site Close to God and Nature
After a visit at my wife's hometown in Taal last Christmas, we passed by Caleruega on are way back to Manila.
Caleruega is found in Barrio Kaylaway, Batulao in the town of Nasugbu. It is just across the boundary of Cavite and Batangas. And around 15 to 20 minutes drive from Tagaytay City.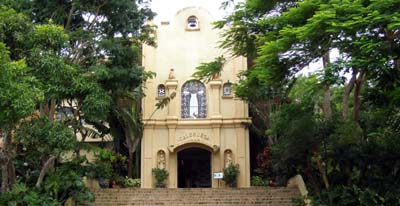 If you are planning to see the province of Batangas, I recommend that you drop by the area, especially if you love Mother Nature and have a moment with our Creator. A place surrounded with exquisite trees and flowers, a perfect place for self-renewal and soul searching.
The minimal entrance fee is worth with a fantastic vista of Mount Batulao and the fertile sloping hummocks of Tuy and Nasugbu. Strolling the compound exposes you to flowers, shrubs, trees, butterflies and birds with the cool breeze, which are nothing less than stimulating.
My children loved the elevated steel pathways with colorful koi fishes, which they fed. There are around 3 koi ponds in the area, with man-made waterfalls, along with trees and ornamental plants.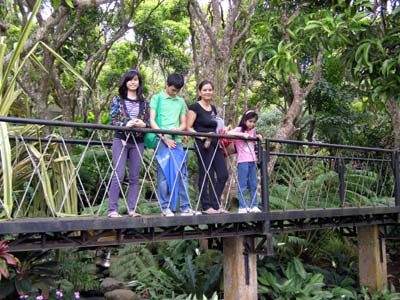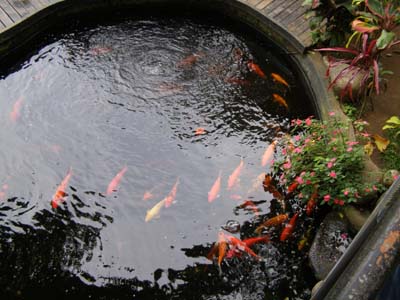 After enjoying the fresh gentle wind in the raised steel pathways, and with some memorable pictures, behind one of the ponds, led us to the hanging rope bridge.


Again, my children enjoyed the experience in crossing the narrow footbridge. The link is made of thick wood with abaca and nylon ropes.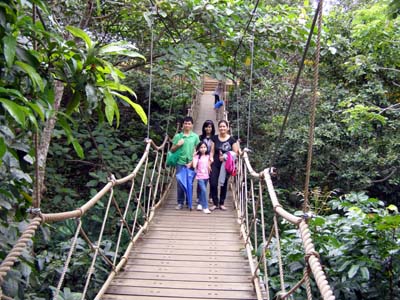 The other side of the bridge led us to lush greenery, with a vast field of green grass, full of trees, with tables and benches. It is a larger garden, which is a perfect place for picnics, or for people to take a sit and relax, feel the cold breeze and witness the beauty of nature.
While resting and having some snacks, in the cool shade provided by the big trees, a hungry hen joined us. My daughter Angel shared some of her flakes as the hen gladly accepted her invitation. After a few minutes, everybody including myself joined in feeding the bird.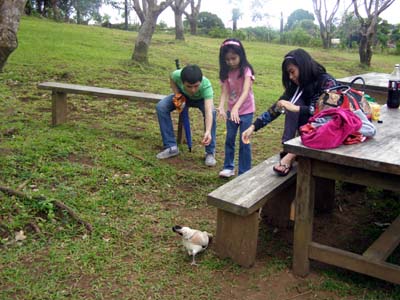 Our visitor made the whole family occupied, as we started talking about the bird, including how birds digest its food. Not knowing that we have spent a lot of time and we should leave as it is starting to get dark.
Caleruega is a great place for family spiritual holiday to loosen up and enjoy the day.
Other facilities found are the Transfiguration Chapel, a very popular wedding venue. The Refectory Hall, is a 180 seat-dining hall, which can serve simultaneous meals at any one time. Veritas Hall for conference and other large gatherings. Accommodations from twin occupancy cottages to as large as 90 bed double deck dormitory are also available in the complex.
Caleruega is a location for a family recreation and bonding. It is also a place for activities such as retreats, recollections, prayers and renewal workshop, marriage, and environment/agriculture-related activities.
For Inquiries and Reservation - Caleruega Philippines
(+6343)7060348; (+63921)2709890
email: caleruega_philippines@yahoo.co