Barong Tagalog of Taal Batangas
What is Barong Tagalog?
Barong Tagalog is an embroidered formal men's wear in the Philippines. It is appropriately referred to as the Baro ng Tagalog (dress of tagalog). The barong is the most versatile apparel on special occasions like weddings and formal affairs.
This formal men's wear is lightweight and never tucked in, on top of an undershirt. The barong tagalog is either jusi (a natural fiber from banana leaves), or piña, a superior kind in pineapple leaves which is hand woven and embroidered. The piña cloth would take around 4 months to produce of around 20 meters of fabric.
It was then Philippine President Ramon Magsaysay chose to wear the Barong Tagalog in all official and social function including his inauguration as president in 1955. Then in 1975, President Ferdinand Marcos issued a decree designating the barong tagalog as the national attire of the Filipino.
Nowadays it's usual for a barong to be worn at formal and informal events, for day and evening attire. For less formal affair most people sport the inexpensive barongs made from jusi cloth. The fine textile of the barong lets a shirt –layer match to see through, where the cross-stitch stands out in vivid distinction to the light opaque shirt worn below.
One good thing in wearing a barong is during the summer season. It is a very comfortable formal outfit to use in hot tropic country like the Philippines.
Handmade Embroidery of Taal
Taal town in Batangas boasts of embroidery as its cottage industry. The filipina (women) of Taal grew with needles, threads and embroidery patterns as an ardent fixture in their surroundings. The three conventional designs which the people of Taal follow are Arabesque, Romanesque and geometric.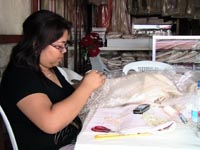 Now there is hardly a first time visitor who can resist the enticing charms of Taal embroidery. Especially that the barong tagalog has gained worldwide acceptance. The town of Taal has a wide selection of hand made embroidered cloths for men and women depending on the design. Available for men are dress shirts and for the women are gowns with sophisticated cutwork and crochet insertions.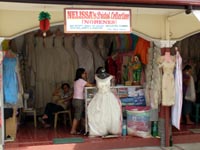 So if you ever come to visit the Philippines, drop by at Taal Batangas and shop for your favorite barong tagalog that fits your style. Which ever you put on, you are not just carrying a style; you are wearing a true legacy.