Philippine Bangka or Boat
The bangka is a type of vessel in Batangas and other provinces in the Philippines as a means of transportation. Widely used for fishing and moving batangueños within the islands. It is acknowledge as the tsar of the blue sea.
It has the usual draw up of a boat form that is very common in the seashore and fishing villages of Batangas. The long, lean banana-formed vessel hull is made of marine plywood and painted with a number of coatings of epoxy paint. Generally it has two outriggers made of bamboo, known locally as katig. And acts as a stabilizer and muscle in the varying tropical waters.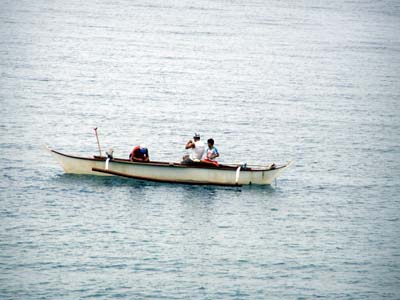 The small bangka's are usually paddle driven, and typically used in shallow waters. In beach resorts it is usually used as an added amenity for their guest to experience in paddling the boat. However one has to pay the corresponding fee on an hour basis of use.
Boats used for inter island transportation, on the other hand are propelled by inboard engines. This is also the same type of bangka, where local and foreign anglers used in their fishing expedition in the deep sea of Batangas.
If you are considering renting a boat for what ever purpose you may have, before closing any deal try to look for the best agreement. Boats rented through your resort would most likely be pricier. Try talking to at least two local fishermen in the area, and compare their bangka's. In this way you will end up with a better arrangement and at the same time save you some money.
For safety purposes it is best to see to it that the bangka you rented is in good condition. Before going out in the deep sea, make sure that the engine is in good mechanical state. The hull should not show any signs of leak or cracks. The outriggers should be tightly secured and the bamboo should have no signs of decay or disintegrating part. Try to see and analyze the overall condition of the boat.
Once inside the boat and moving towards your destination, refrain from unnecessary movements particularly if you are in a small bangka. It might capsize, and it is a good practice to stay put to avoid unwanted incident.
If traveling with a companion in a bangka who doesn't know how to swim, or on board with children. It is advisable to have an inflatable or a life jacket with you during your tour.
On the other hand, if you hired a boat to go fishing. It is advisable for you to bring essential things only. Remember that it has a limited space. It would be a good idea to take along 3 rods per angler, a small cooler and a tackle box. For the glaring heat of the sun, a suntan lotion, a hat and a pair of sunglasses. And don't forget some refreshments, bottled water and snacks.
Riding a bangka will definitely give you a new feel in your holiday in the beaches of Batangas. And make sure you ride one.